Hi guys :)
How are you doing??
It's too sad to say but summer is close to an end ;(
So let's make the most of the time you have left !!!
I'll tell you the best event for tonight, for wrapping up your summer.
(photo credit : Hiroshima)
YES!! FIREWORKS!!
Anyone who missed Kintaikyo Fireworks??
Don't worry, We still have Miyajima Fireworks !!!
I personally love this fireworks festival because the view of Miyajima is even more beautiful with fireworks.
Besides,I want you guys to enjoy Japanese culture.
You can check the detail from the link!!
So today,let's learn words&phrases about fireworks before you go Miyajima Fireworks.
Here's a word list for you guys!!
1.Hanabi Taikai
Hanabi means Fireworks in Japanese.
Taikai means Competition.
A lot of companies invest their money to set off a firework,but they are not competing which hanabi is the best,so I'm not sure why we say Taikai after Hanabi. And a lot of Japanese don't know as well.(not only me :p)
2.Yatai
Not only Fireworks,you should enjoy foods from Yatai as well.
Yatai is food booth which occurs mostly during the summer festival season.
It has a lot of foods which you can get only from Yatai.
Here's some typical food from Yatai.
Ringo Ame
Ringo ame is an apple is covered with a caramelized sugar pretty much.
It's sweet and tangy :)
Hashimaki
This one is similar to Okonomiaki actually.
Hashi means chopsticks and Maki means role.
Basically it's savory pancake with cabbage,ginger,seaweed and mayo on it.
Shaved ice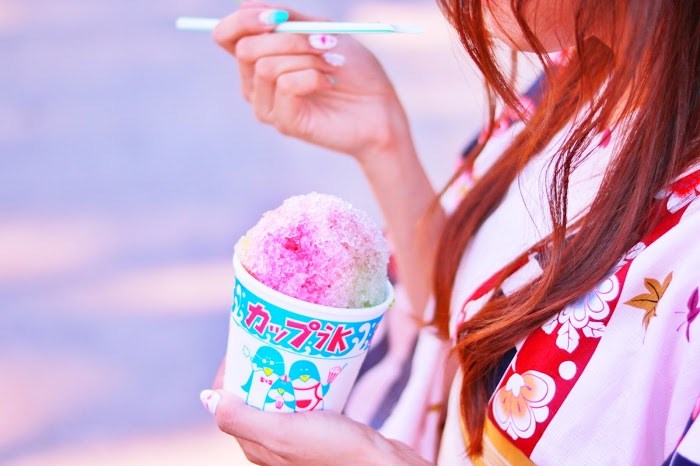 Usually it's boiling hot outside in summer festival season.
So I always get shaved ice from Yatai to beat the heat.
Okay let's stop talking about food because I never stop lol
Let me inroduce our traditional outfit for summer festival now.
3.Yukata
I'm sure that you've seen it one time at least in summer season here in Japan.
This old traditional cloth is called Yukata,and it's different from Kimono.
Yukata is lighter and inexpensive than Kimono,so if you practice,you can wear it by yourself !!
Wearing Yukata date is really poular here ;)
You can learn how to wear Yukata from this video!!
Let's learn phrases before wrapping up today's blog.
1.花火を見る(Hanabi wo miru) See fireworks.
私は今日宮島に花火を見に行きます。
Watashiwa Kyo- Miyajimani Hanabiwo Miniikimasu.
I go to Miyajima to see fireworks today.
2.きれい(Kirei) beautiful
花火がきれいです。
Hanabi Ga Kireidesu.
Fireworks is beautiful.
We don't say whole sentense usually,just say "Kirei" when we see fireworks.
So now you are ready going to Miyajima Fireworks !!
Thank you for reading my blog.
Hope you guys enjoy tonight! Bye!!